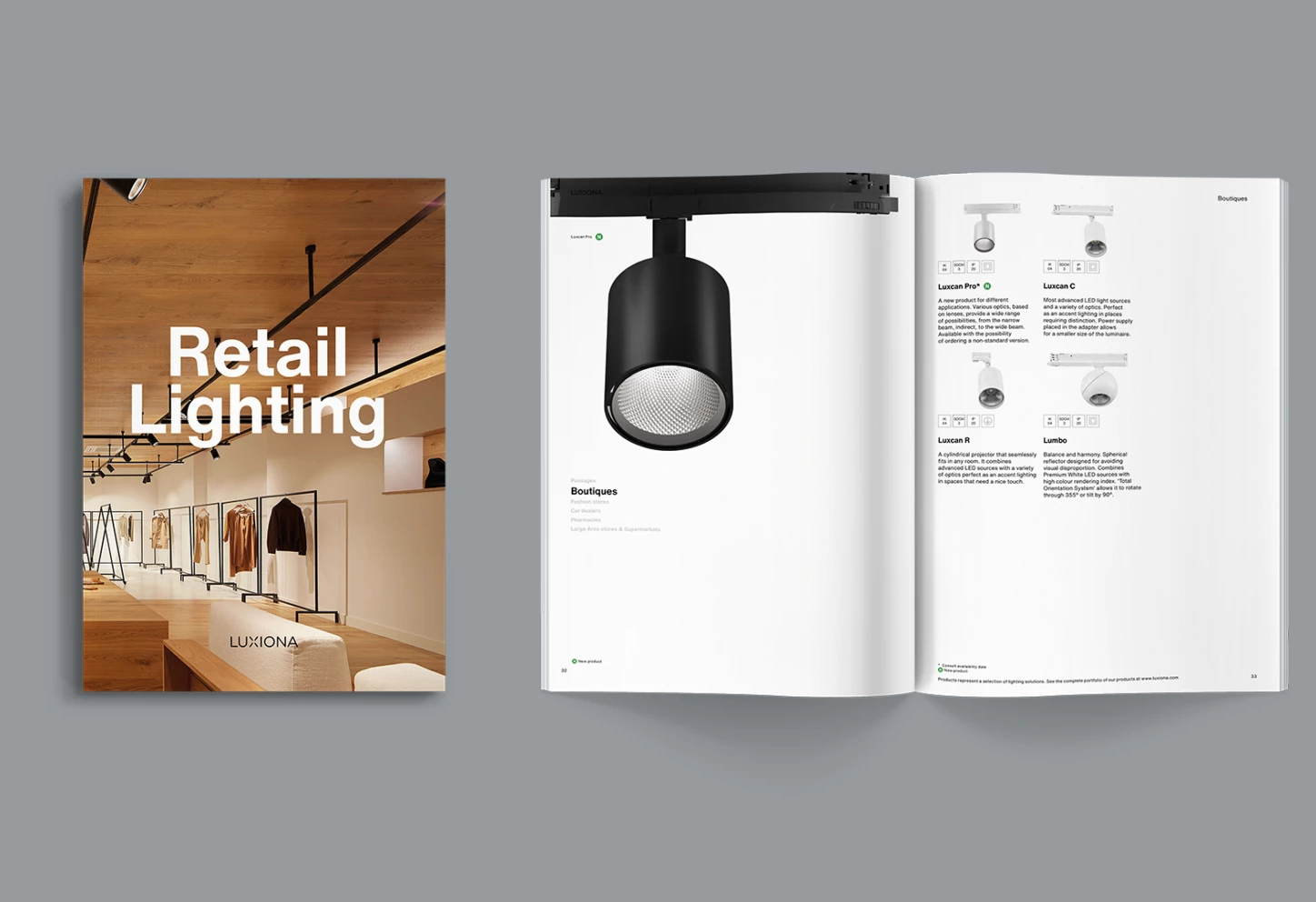 New lighting catalogue for retail with innovative and personalised solutions
Luxiona presents its new catalogue with the expansion of its range and the introduction of new products.
This catalogue offers a wide variey of customizable luminaires and systems that adapt to all types of stores, from large interiors to small businesses, to achieve perfect and adapted lighting for the needs of each space. Lighting in the retail sector has evolved significantly in recent years, increasingly focusing on energy efficiency and sustainability. Our technology has allowed us to develop new solutions that are not only more environmentally friendly, but also help to reduce energy consumption and maintenance cost for merchants and business owners.
Additionally, with changes in consumer behavior, lighting has become even more important in creating personalized and unique shopping experiences that adapt to their preferences and expectations. This catalogue reflects the evolution of lighting in the retail sector, in tune with new trends and changes in user behavior. To attract customers, encourage them to taste a product, to see a garment or object in detail, or to create an emotional experience for visitors, two types of lighting are used: general lighting and accent lighting. Based on this classification, Luxiona offers personalized solutions for each space to create an attractive and unique environment in different establishments.
Among the most outstanding novelties of the catalogue is Luxcan Pro, a projector for different applications with different optics that provides a wide range of possibilities in beam or diffusion pattern. Additionally, it is possible to request a fully customized version.
On the other hand, it also presents the Parallel, a linear system that is quickly and easily installed, excellent for functional lighting in supermarkets and commercial spaces. It is a luminaire designed to be installed in straight lines, made of painted aluminum in white and with the possibility of customizing any colour
We are proud to offer its customers quality lighting solutions designed to improve the shopping experience and highlight products in retail spaces. With this new catalogue and the innovative solutions, it offers, Luxiona continues to consolidate itself as a leader in the lighting sector.
View catalogue