Retail Lighting: Bring out the best in your retail space
Create a unique shopping experience and differentiate your brand and with professional lighting solutions dedicated to the retail sector. With the proper lighting you can create the right mood in the store and connect in a meaningful way with your consumer.
Light completes a sophisticated architectural design where the emphasis is to provide customers with a unique shopping experience and to increase customer satisfaction. It welcomes potential buyers into the retail space and provides uniform and inviting ambient lighting that makes customers stay and feel at ease. Moreover, the lighting also emphasizes the store layout by creating visual layers with less noise, making it easier and more pleasant for customers to explore the displayed goods and comfortably move around the store.
Having customer satisfaction in mind, LUXIONA developed solutions that combine comfortable general lighting with accent lighting providing refined product presentation by bringing out its texture, colour and quality. With those solutions, it is also possible to reduce maintenance costs as well as generate energy savings. By using highly efficient LED luminaires, with the longest lifespan it is possible to save at least 40% of energy in comparison with conventional luminaires.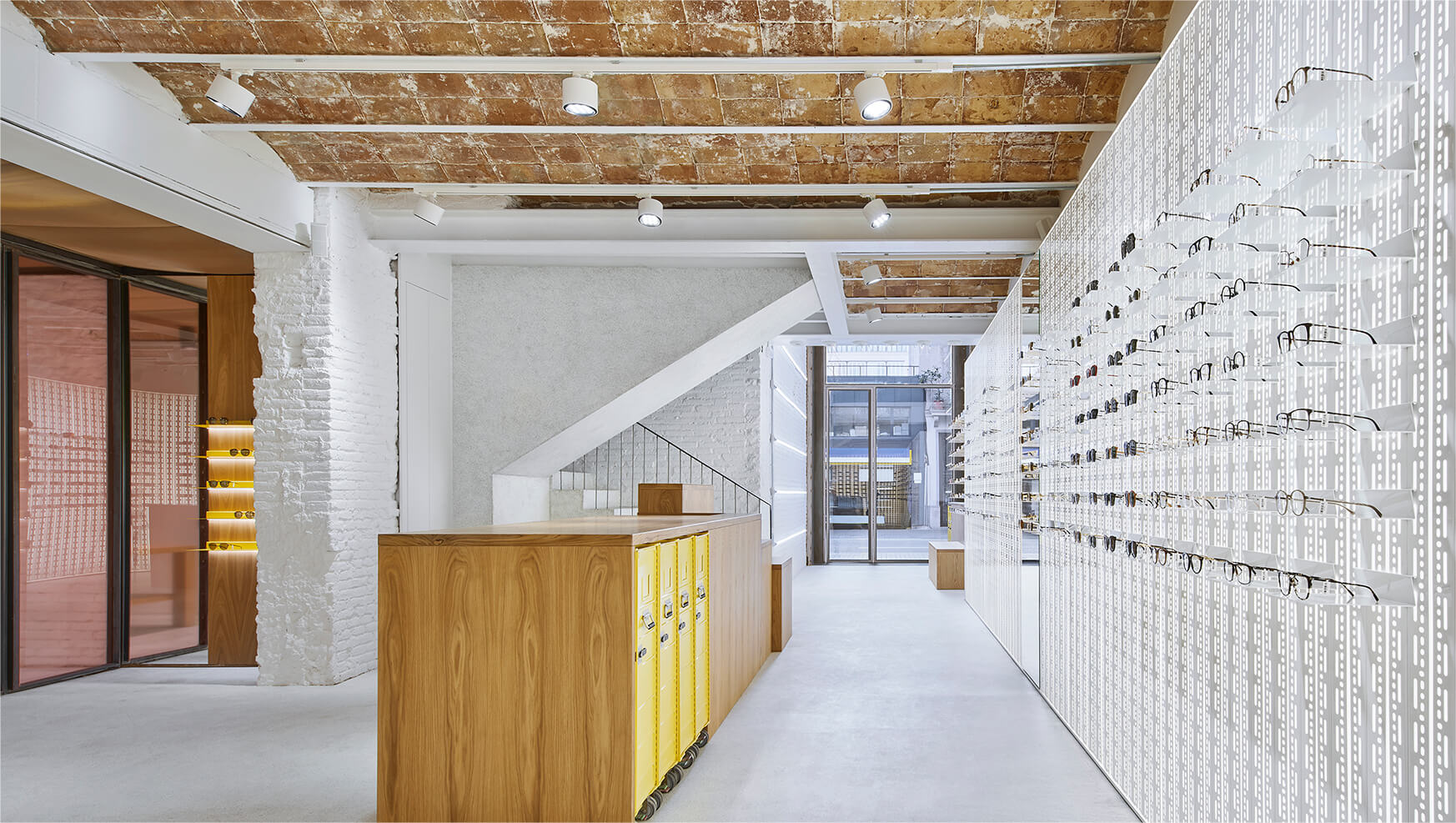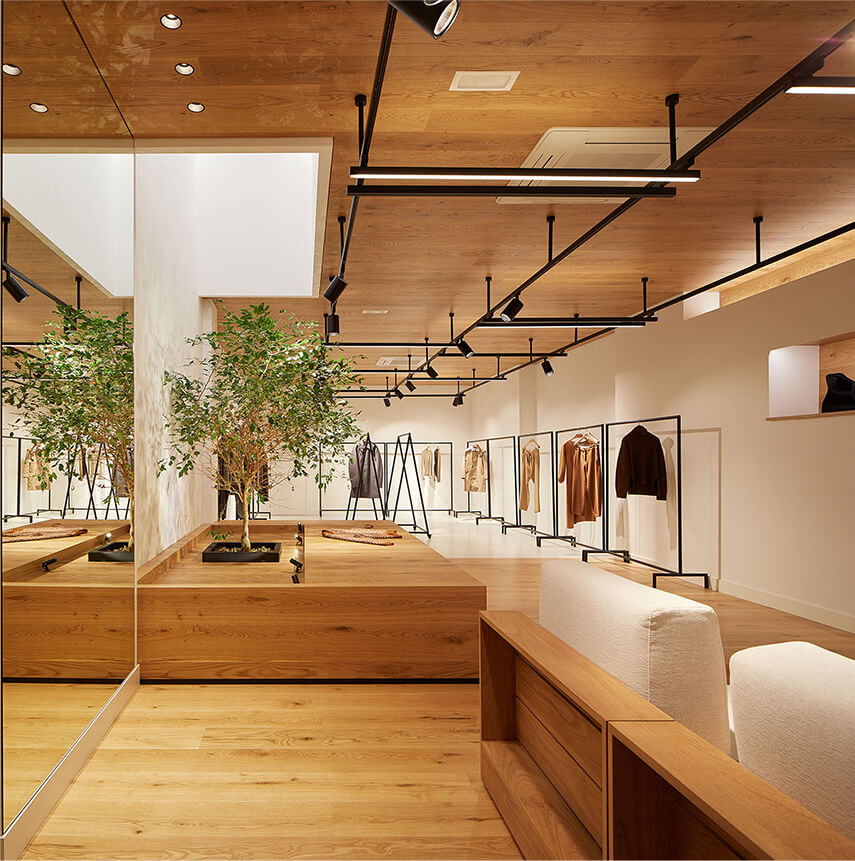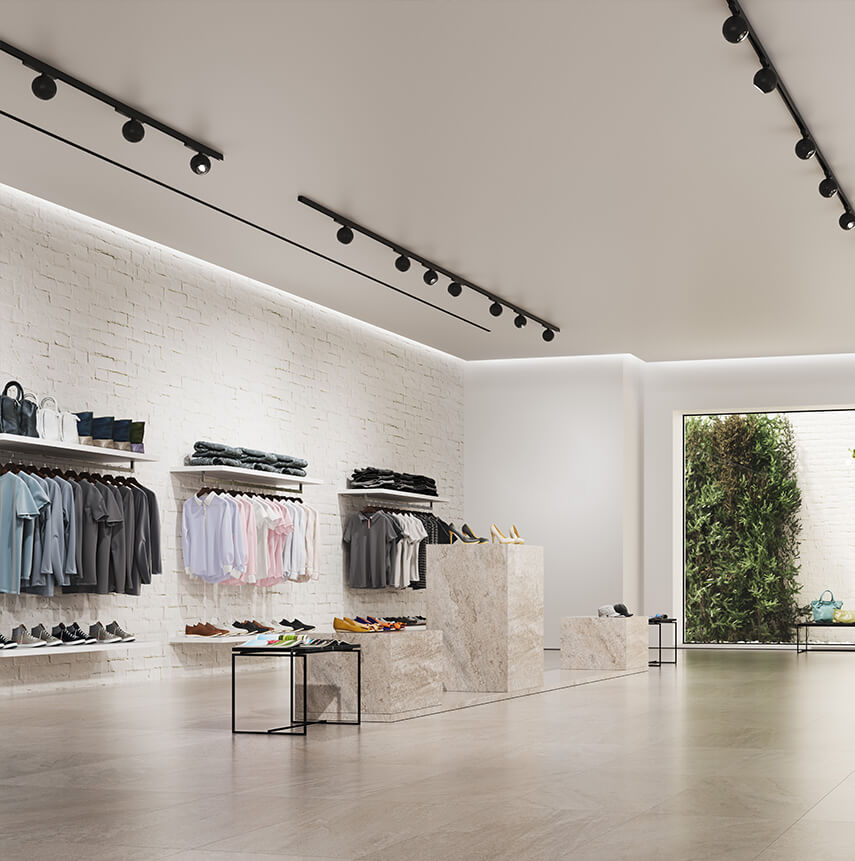 Guide your customers
Luxiona luminaires create space easy to navigate, guide consumers through store and direct them to what they are looking for.
Through general lighting we can identify the different areas of a shop, with a special focus on the aisles and passageways that mark the flow of visitors in the shops and provide spatial orientation. As these are spaces that in many cases visitors are just getting to know for the first time, it is very important that the general lighting uniformly provides visual information about the shop, the location of products, passages, cashiers and overoll store layout. Correct light helps things belong in the space like they were always there and harmonise products and interior design with the architecture and brand character. By creating depth in the store and tunel vision with narrow beam we're not only telling the story through light but also help follow faster shop's communication paths and find the product that we're looking for.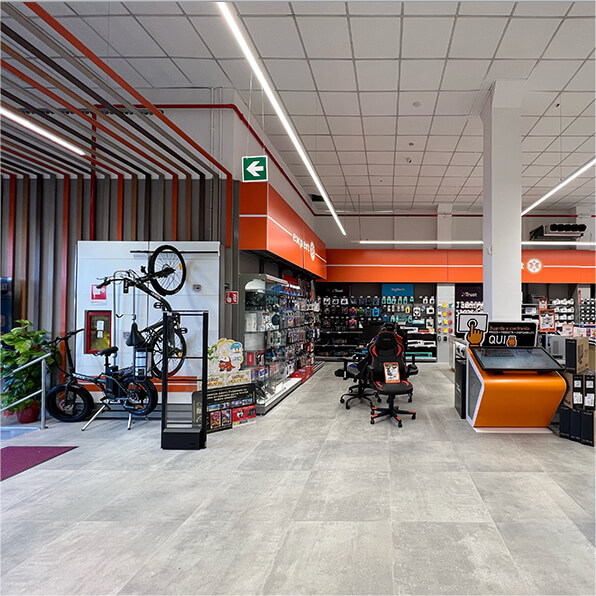 Display your products
With the right accent lighting you can highlight the products and help them stand out. It will make it easier for visitors to discover your product and predispose them to the shopping experience.
Our retail luminaires establish visual hierarchies in the shop by means of lighting contrasts. They highlight points in the shop or convey a message to the visitor that the product is special. Whether in shop windows, interior podiums, or at the head of gondolas, accent lighting, the closer to the product the better for small products, reveals to visitors the reality of colours, shapes, and textures, thus emphasizing its best features. Wall washers, as another type of accent lighting, are closely aligned with the general lighting, as they delimit where and how the space ends and mark the visual baseline for visitors.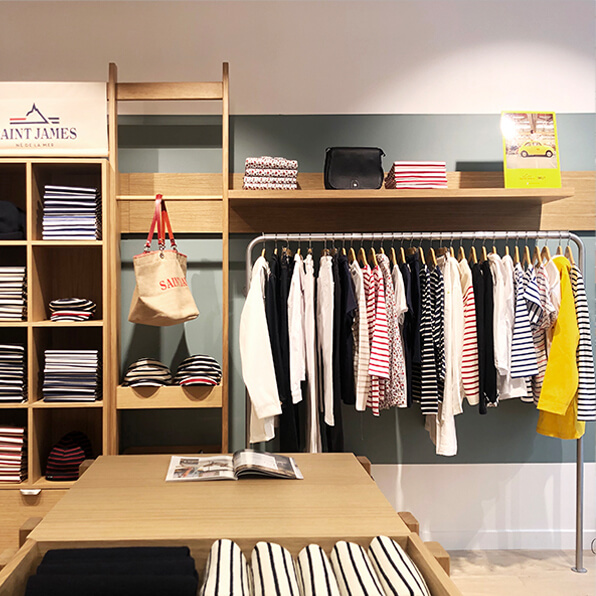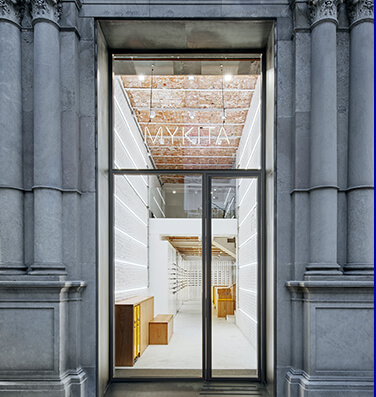 Engage new clients
It is only a matter of seconds when you have an opportunity to draw a new client's attention to your store. The right light welcomes a customer from a distance. We help your visitors notice your retail space and differentiate it from other brands. With LUXIONA's lighting solutions, your stylish façades, shop windows and entrance areas will stand out and give your visitors a welcoming and unique shopping experience.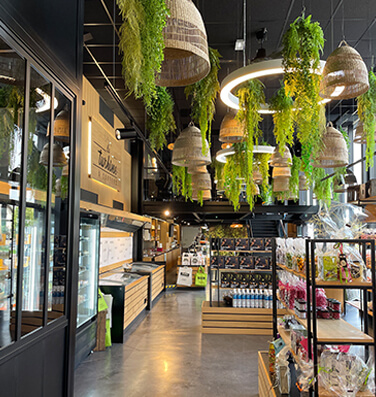 Create emotions
Emotions is what navigate us through the shopping experience. We choose the spaces where we feel comfortable and at ease. With a propoer lighting we are able to create the mood and emotions that will help your client feel comfortable and amazed by the creativity and visual sensations. Perfectly staged sales areas can increase buying pleasure which means a customer will stay in a shop longer and bring you sales success.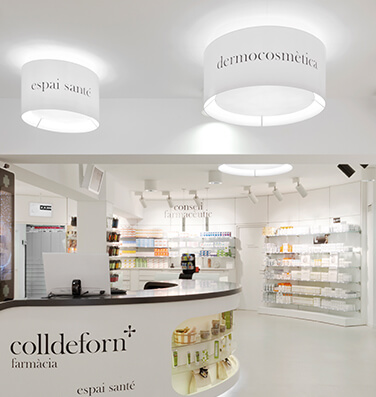 Reinforce brand image
Consistency in visual language helps to create a strong brand image, that results in long-lasting relations and trust between the client and the brand. We can help you with that by offering customised lighting that will perfectly align with the interiors of your retail space as well as your band's image. You can reinforce your image by changing the size or shape of the luminaire or choosing luminaires in your brand's colours or placing your logo on the luminaire's body.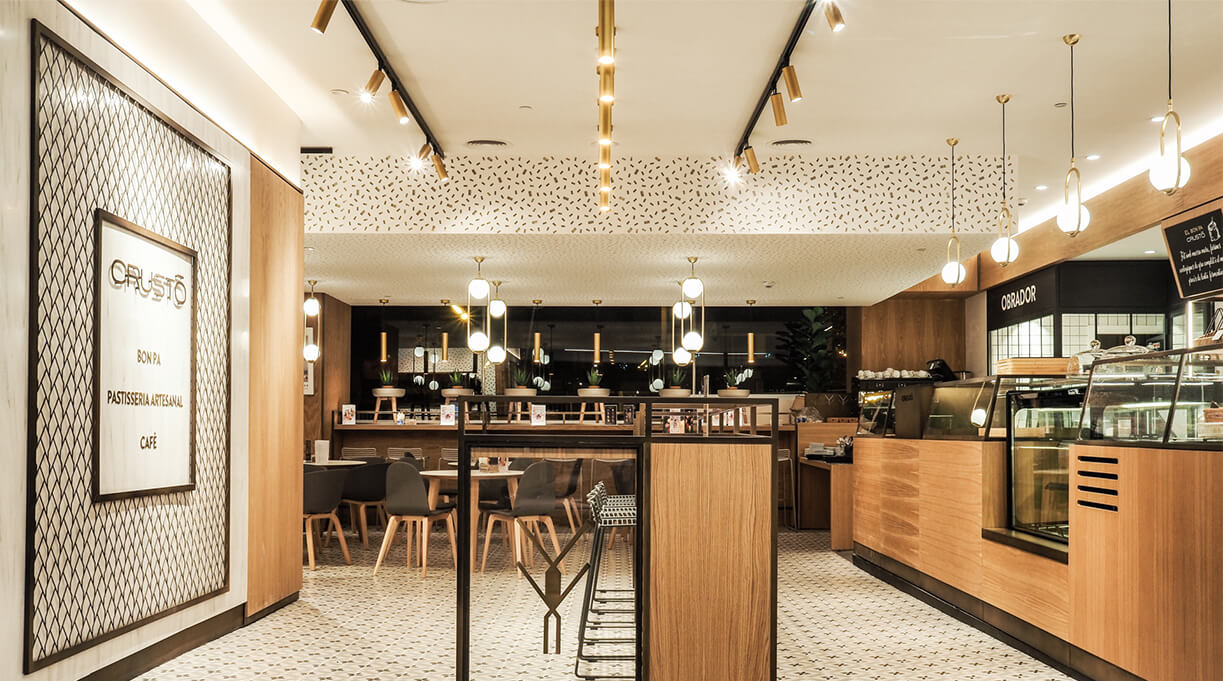 Highlight the quality of fresh food with the highest CRI
Create the greatest appearance of fresh food thanks to high CRI and special targeted use of specific colour spectrums, with additional advantages such as reduced growth of bacteria and overall improved shopping experience. LUXIONA luminaires provide high-precision accent lighting to perfectly display highly sensitive food such as meat and fish. By bringing out the authentic colours of food and enhanced visibility you can ensure a natural look of the products with perfectly uniform general lighting. The highest quality LED sources used in LUXIONA luminaires reduce harmful heat emissions and don't emit UV radiation, resulting in light that is gentle on fresh food and ensuring that vegetables, fruits, meats, and fish will stay tasty and fresh longer.

Special LEDs for baked goods
Luminaires with LED sources with added phosphor to saturate the yellows (R10) will beautifully highlight the golden colour of all the bread, pastries and other baked goods and make them even more appetizing. But if exposed to UV radiation for a long time, baked goods tend to dry out and look faded. That's why LUXIONA's highiest quality LED sources can protect pastries from drying out and fading away thanks to the minimum UV emission.

Professional lighting for fresh meat
Specific LED sources for red meat and marbled meats with a special spectrum of red light (R9) will help the meat look more natural and appealing. Accurate meat lighting sustains the freshness and tenderness of the meat and highlights its texture. Too high illumination or too warm colour of light on the other hand can easily make the meat lose its tenderness, look paler, and less fresh.

Perfect light for fish and seafood
LED sources with excellent CRI in the blue and white bands, (R12 and R13) increase brightness and enhance the fresh appearance of fish and seafood. Cool white lighting with an appropriate colour temperature of light makes them shiner and more appealing to customers. The spectrum of blue light is also known for being the most effective in killing bacteria and most common pathogens which prolongs the freshness of fish.
Personalise the light
Thanks to LUXIONA's customised solutions you can perfectly adjust chosen lighting to your retail space, by modifying its dimensions, shape, colour and finishing, as well as all the control gear and light parameters.
LUXIONA solutions are ranging from boutiques, fashion and jewelry stores, pharmacies, and car dealers to shopping centers, large area stores, and supermarkets. The products for all retail segments and needs demonstrate wide options available for setting the right lighting mood while showcasing the product and communicating the brand's character and authenticity. The range of solutions is even greater thanks to the possibility of customising the luminaire's light, gear, and body parameters. Our various offers for both general lighting as well as product presentation areas, including lighting systems for display tables, counters, shelves and changing rooms complete this selection and give you the right lighting solution for any task in the retail space.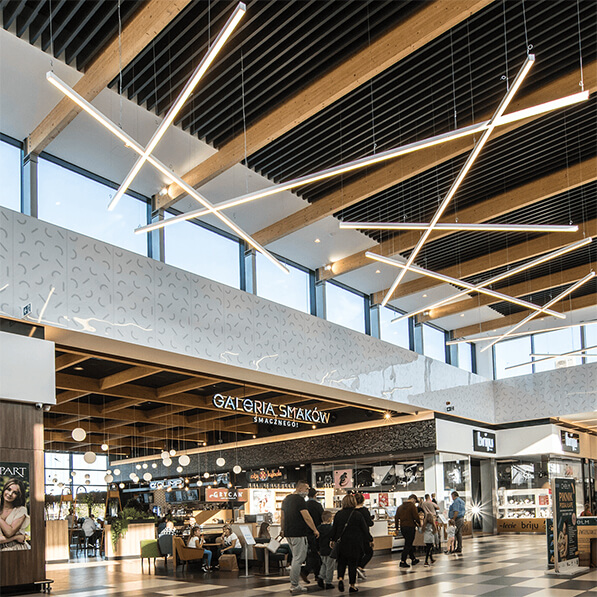 Keep the light flexible
Using track lines to position Luxiona luminaires in shops is the best way to provide extremely high levels of flexibility in a change-demanding environment such as display areas for fashion, home furnishings, jewelry, and accessories.
Changes in the layout of the sales display, which require the lighting to follow. In this case it is only necessary to move the luminaires along the rails, adjusting them in the most convenient way to the new display points, without the need to redo the electrical installation in most cases. Changes in the type of product to be displayed, which require luminaires with different parameters or with different optics, where replacing the lighting is reduced to a "plug &play", removing some luminaires and replacing them with new ones in the same place, without the need for extra wiring.
View products