Office Lighting: Light that provides comfort and productivity in the workplace
Providing adequate lighting in the workplace helps maintain the required light levels and meets all employees' needs, including safety, visual comfort, and visual performance.
A lighting solution appropriately selected depending on the needs, with the right colour temperature, intensity, and uniform illumination of the surface favors the symbiosis between the architectural space and its function and the needs of users. It provides the appropriate aesthetic impressions and affects the well-being and physical and mental comfort, which is so important in the workplace.
To create ideal lighting conditions and a unique and friendly atmosphere in the workplace, office lighting should combine natural sunlight and artificial light. Choosing the right products is not only a matter of adjusting the light intensity but also obtaining the right light quality to meet users' needs. Working in front of a computer is a strain on the eyes. Proper illumination of the environment will minimize contrast, which if too high can cause discomfort while working.
View products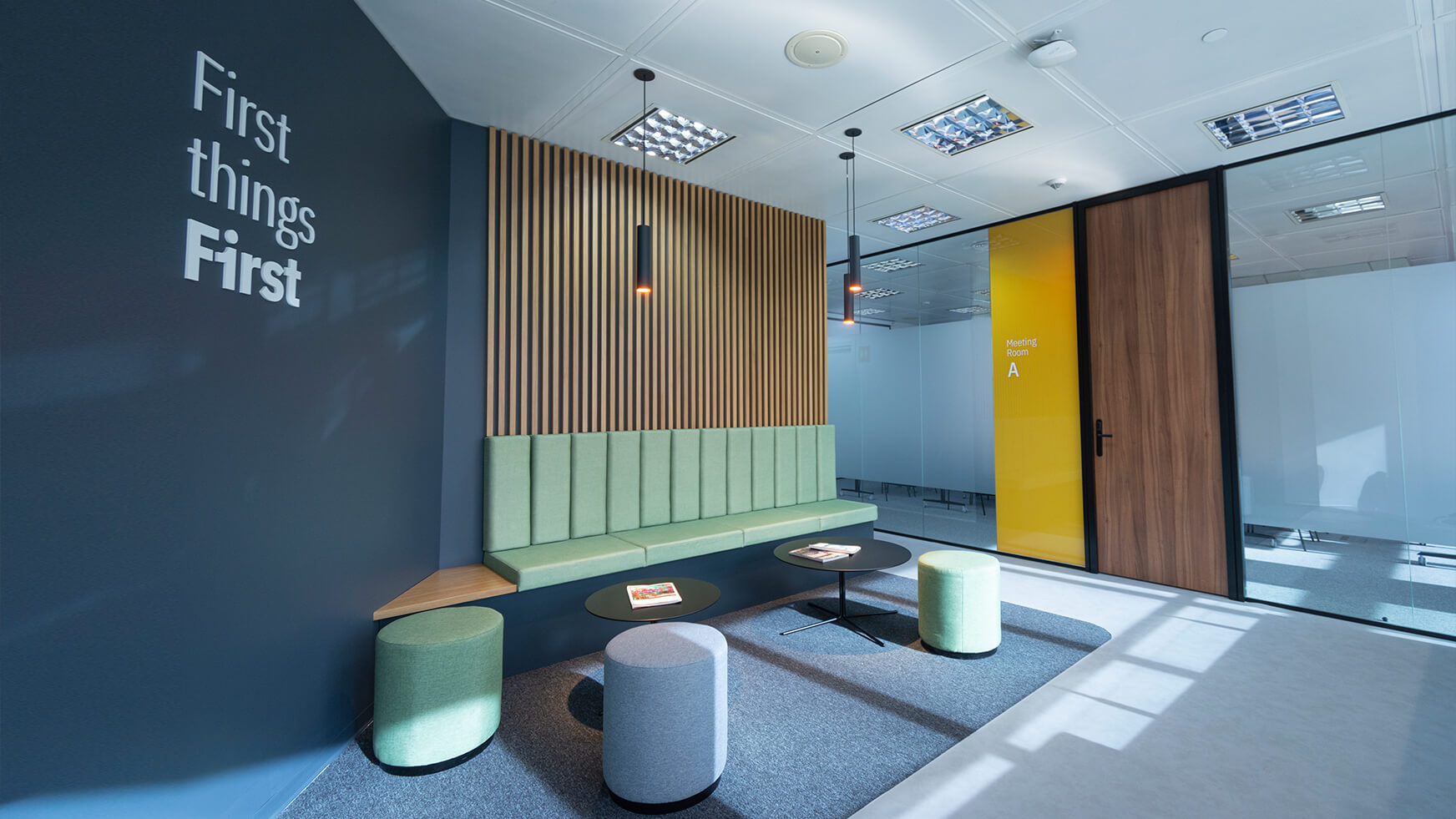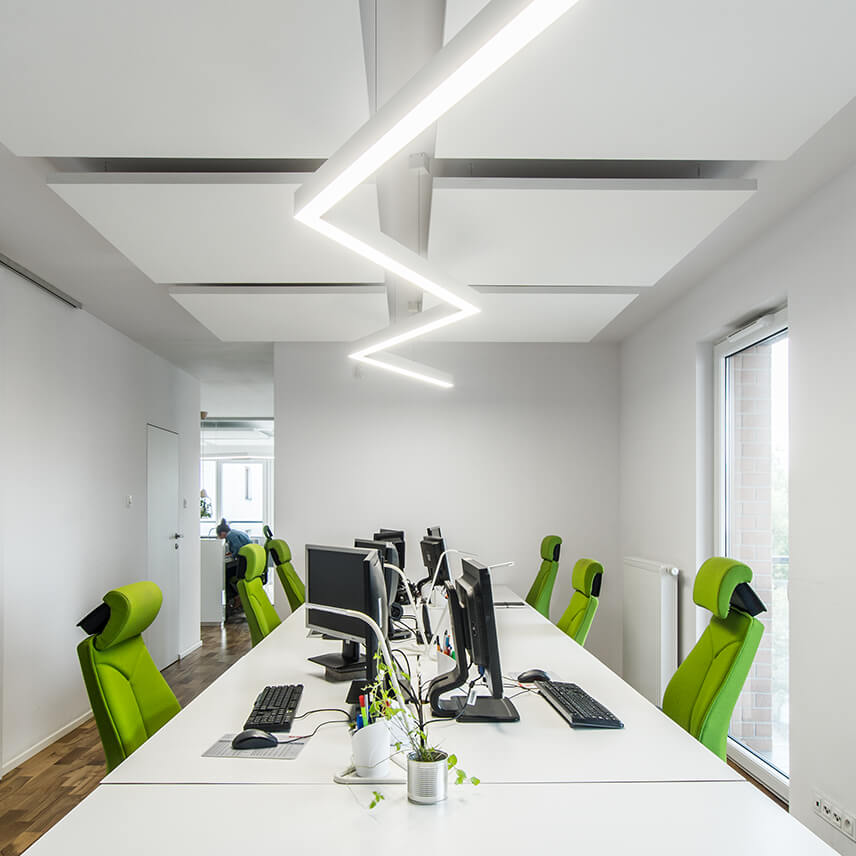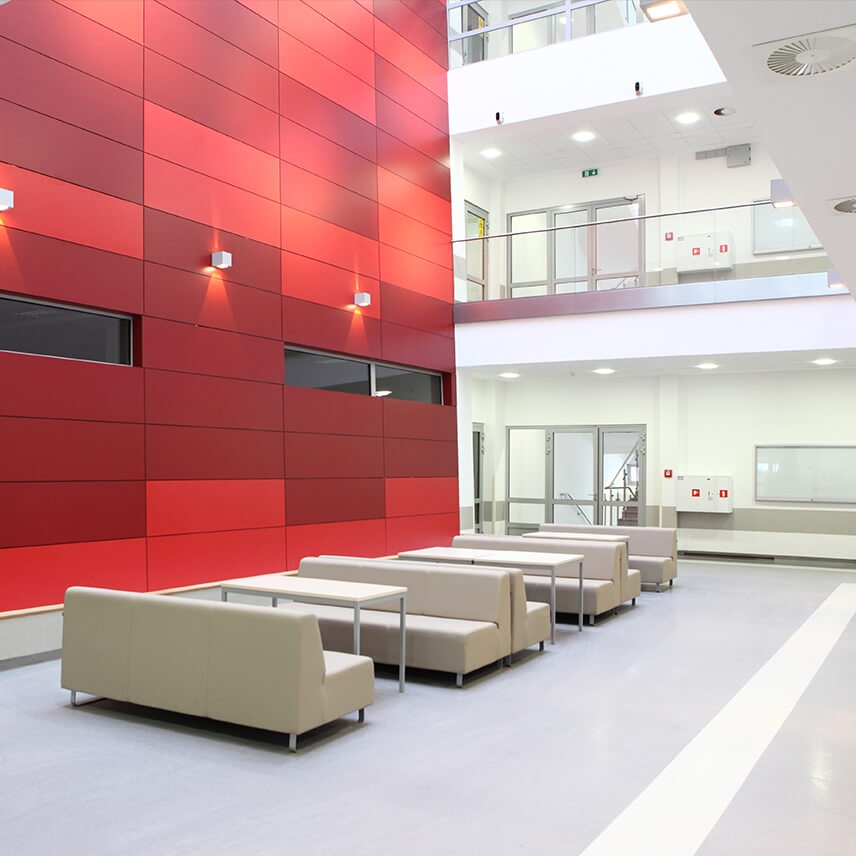 Comfort, well-being and productivity
It's both an art and experience that allow us to reflect perfectly the chosen space, complement its character and provide an optimal user experience. Well adapted lighting solution blends into the interior design, subtly enhancing the spaces' character and creating organic an inviting atmosphere. Lighting affects our energy levels and contributes to physical and emotional well-being. Adequate lighting reduces the feeling of sleepiness in the first hours of work. By restoring the natural biorhythm in the workplace, it's possible to affect our productivity and creativity. Flexible light enhances motivation and improves the quality of work and time spent at the office. Human Centric Lighting (HCL) allows us the purposeful, long-term light's impact on our activities and needs.
It includes the biological, visual, and emotional impact of natural and artificial light on our organisms. It focuses on supporting the body's circadian rhythm, a process that lasts approximately 24 hours. An effective lighting solution taking into consideration the HCL approach uses the colour and the brightness of the light to imitate the changes natural light undergoes throughout the day. It allows us to define levels of visual comfort and create the correct relationship between lighting levels and colour temperature better suited to our activities, with the help of technologies such as Tunable White. The effect is calming and relaxing in the evening and stimulating during the day. Rising the levels of melatonin introduces us to a state of relaxation and helps us improve our rest and sleep patterns. Through the suppression of melatonin, we help increase activation and alertness.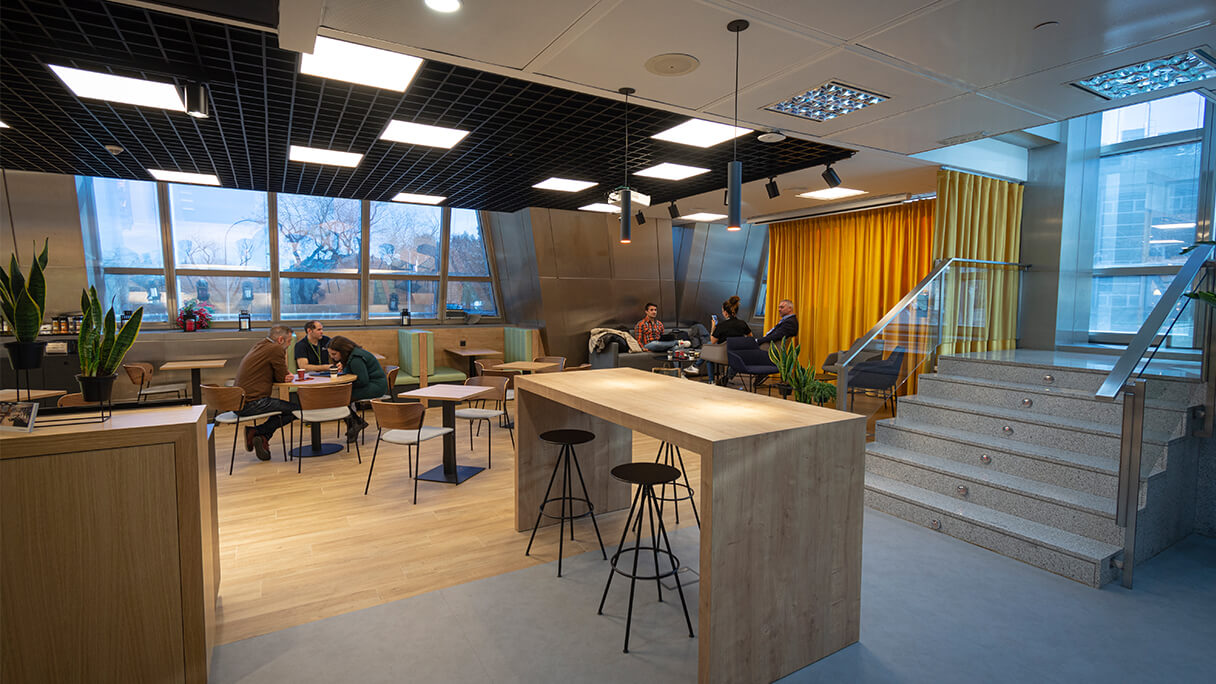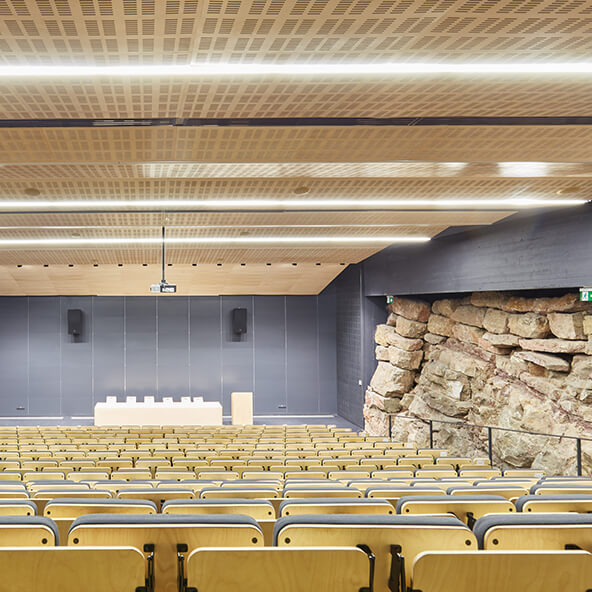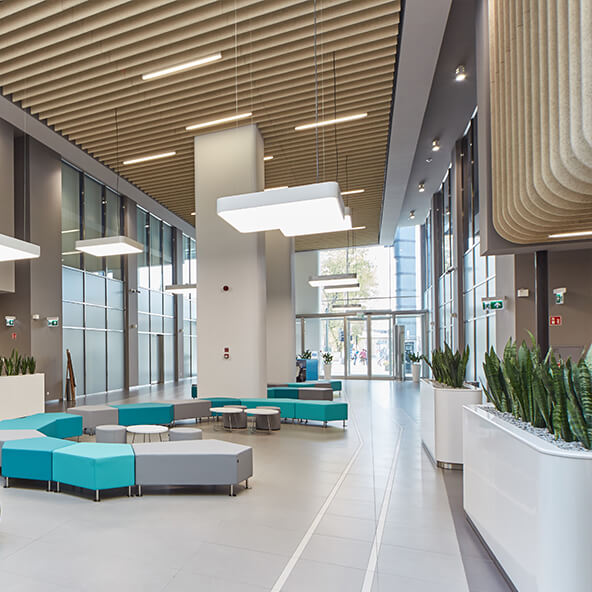 Ease of lighting management and energy savings thanks to smart lighting systems applied to our lighting solutions.
Smart lighting opens up a new range of possibilities for designers. It enhances comfort, adds drama and introduces flexibility by giving users the power to create the lighting conditions they need. By tuning the tone and brightness of light at different time of day it's easier to keep everyone focused and alert. Lighting system can change for every time of the day, or follow the sunrise and sunset on each day. Thanks to movement sensors and brightness sensors it's possible to adjust the amount of light to the right conditions and dimm or turn off the lights in the spaces where it is not needed.
By using smart lighting systems connected to a mobile device it allows to communicate directly with a luminaire and luminaires to communicate with each other. It uses a low-power radio communication technology that's built into every modern smartphone, laptop, and tablet. Which makes them ideal tools for controlling lighting, colour, or setting up scenes. It helps bring flexibility and personalisation and energy savings to your offices. By using sensors built into fittings it's also possible to respond to different circumstances and share the data in the cloud.
Personalised light, gear and body
We leave nothing to chance. By listening, understanding, and combining our knowledge and experience we make the most of available possibilities. By anticipating the expectations of architects, lighting designers, interior designers, and engineers we create lighting solutions that respond to their needs.
There are many ways to customise our luminaires. By adjusting its light: emission, amount of lumens, colour rendering, colour temperature and optics you can create conditions that will be comfortable and will support you in everyday work tasks and create visually impressive, warm and welcoming space. To have more control over the lighting you can customise its gear by using smart lighting control and sensors. To make your project even more visually aesthetic change the luminaire's body: material, size, colour and finishing. There are endless ways to customise and create a custom-made product that will fit your project perfectly.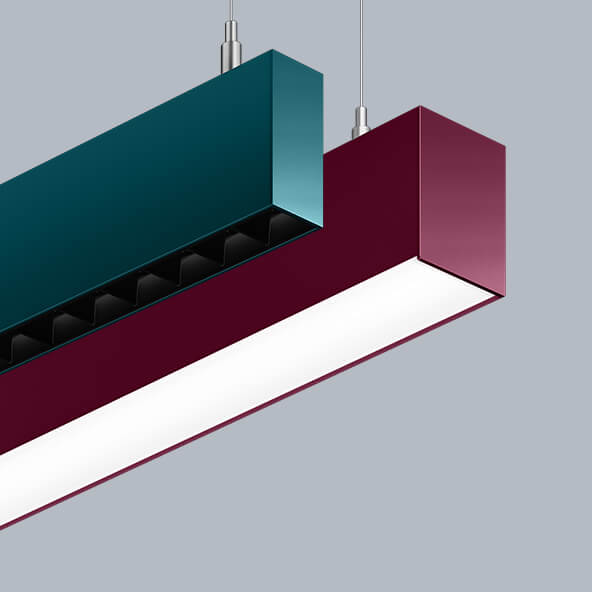 Lighting Consulting
Our team of 20+ experts is always available in each countryof our presence and will accompany you in developing your lighting projects. We provide personalised advice, specific for office lighting, based on experience and know-how gathered throughout the years. Thanks to complete follow-up of the project's needs until its implementation we offer you a global and integral vision at every stage. Our certified Dialux trainer, with always up-to-date knowledge is available for you to help you with your project and to train your design team. A personal approach to every project is at the centre of our work and leads to a partnership that results in top-quality projects.