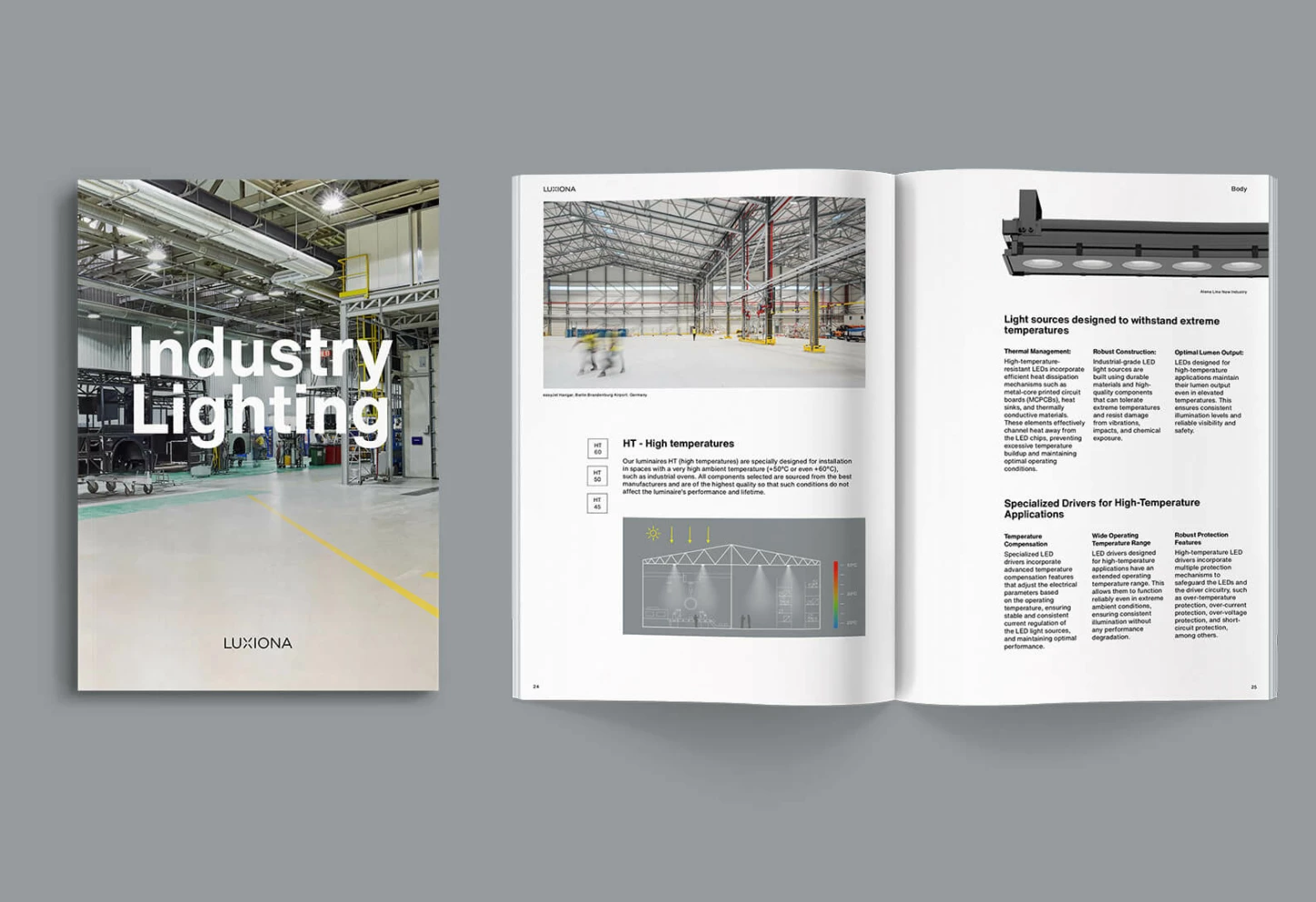 LUXIONA proudly presents its latest comprehensive catalogue, tailored for industry professionals seeking invaluable insights into lighting solutions for diverse industrial spaces.
See catalogue
This complex catalogue features a wide array of professional lighting solutions, purpose-built for industrial applications to deliver unmatched performance, durability, and efficiency. From indoor to outdoor industry applications, including production plants, low and high-storage warehouses, industrial ovens, and freezers, the catalogue provides expert advice and solutions to optimize productivity, create safe working environments, and ensure adequate illumination that promotes seamless operations.
Moreover, operating in challenging industrial environments demands specialized luminaires that can withstand harsh conditions, such as chemicals, dust, high temperatures, and humidity. The selection of LUXIONA Industrial luminaires, with customizable finishes and the highest IP and IK values, guarantee exceptional performance and longevity, even in the most demanding settings. Tailored Colour Rendering Index (CRI) values for each industrial zone, along with diffusers and optics maintaining uniform lighting and low UGR ratios minimize glare and visual strain, prioritizing employee comfort, and enhancing productivity.
With sustainability and cost-effectiveness in mind, the offer included in the Industry Catalogue provides solutions with the longest lifespan, durability, and highest lighting efficiency leading to significant reductions in maintenance costs and uninterrupted operations. Additionally, the customizable dimensions and versatile installation options meet the needs of any project.
The catalogue contains the latest additions to our lineup, including Parallel, Neptun Industry for high temperature applications as well as new, improved versions of our existing products such as Neptun V2 or Neptun Inox.
Discover how to elevate the productivity, safety, and well-being of employees with the Luxiona Industry Catalogue.
Download your personal copy now from the link below.
See catalogue